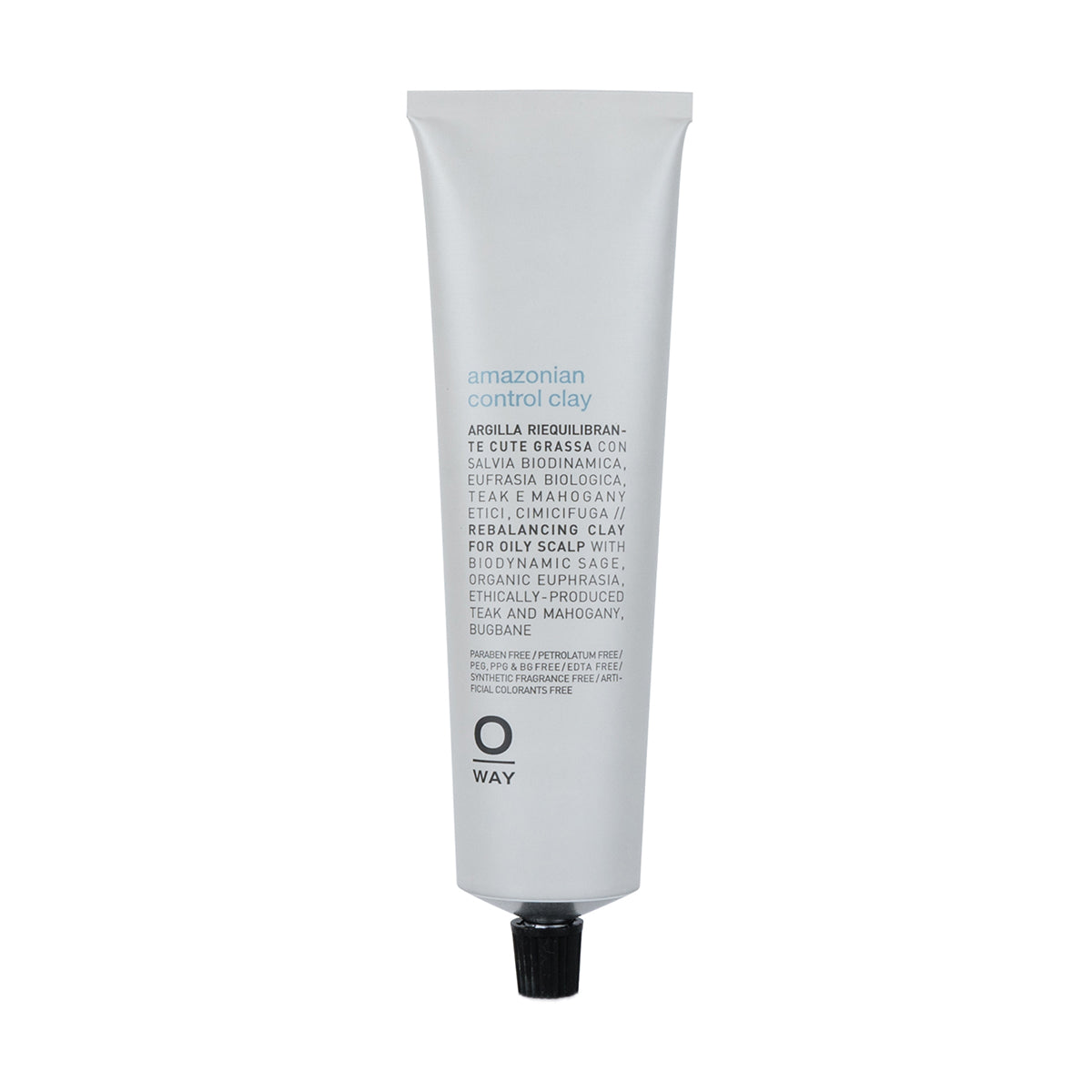 amazonian control clay
Description
Rebalancing clay for oily scalp
Benefits
• Absorbs excess sebum and impurities.
• Eliminates toxins and unpleasant scalp odors.
• Detoxing and slightly exfoliating action.

Use
• Add 2 pure biodynamic sage spoons in 50 ml of AMAZONIAN CONTROL CLAY, mix and apply. Leave in for about 10 minutes, rinse.

Did you know?
• Apply once per week/every two weeks depending on the initial situation and until the normalization of the defect.
• In hot periods, it should be applied once a week.
• Kaolin helps absorb excess sebum and normalize its production
• Menthol refreshes and provides immediate relief.
PACKAGING AND SUSTAINABILITY
We safeguard the concentrated richness of Oway's agricosmetics in glass bottles and aluminium tubes: inert and protective materials, 100% recyclable for an infinite number of times. We use metal caps, where possible, to seal bottles and jars. We promote the interchangeability and reuse of the dispenser and encourage consumption awareness of our formulas, reducing waste.
We only choose eco-certified papers, such as FSC, which come from responsibly managed forests, and Tree Free, deriving from food production waste. To minimise our impact on the environment, we only use essential packaging and avoid unnecessary packaging. For some cases we create reusable cotton or wooden materials.
Check with your Municipality for a correct waste disposal
*It is not necessary to rinse the container from the very small residue of product inside.
**You can dispose of the label together with the bottle, without having to unglue it and dispose of it in the paper waste collection.
***Store the dosing pump by removing it from the detergent in use and screwing it onto a product of the same format.