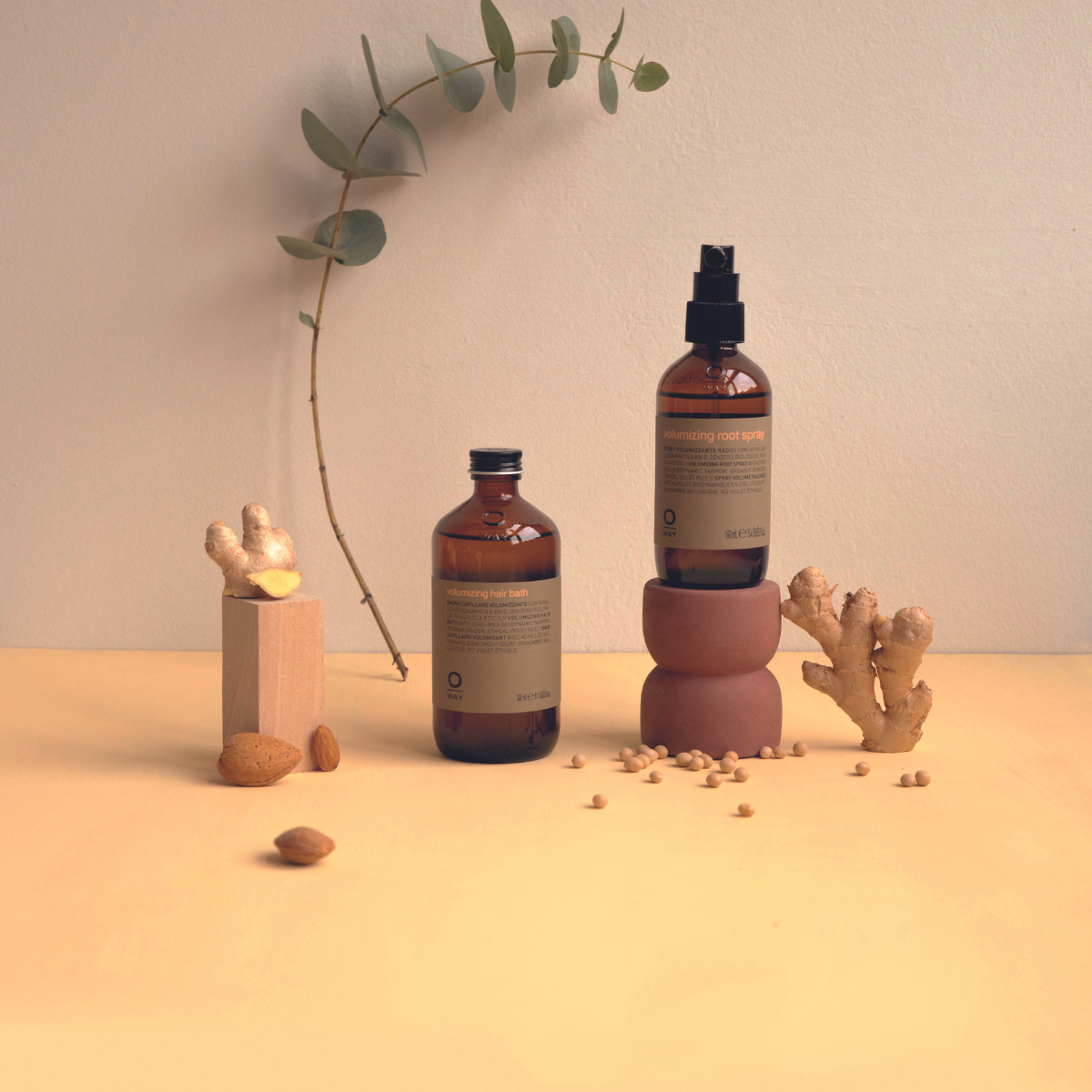 volumizing hair bath
Description
Volumising hair bath for fine, lifeless, floppy hair.
Benefits
• Cleanses while doning strength and body to fragile, limp hair.
• Contrasts static electricity.
• Maintains lightness from the roots to the rest of the hair.
Olfactory Sensations
Olfactory bouquet: marigold, geranium, tangerine, coriander. Flowering and stimulating fragrances, for a treatment that offers tone and hold to fine hair and hair that tends to go limp.
Use
Apply to wet hair, massage in and rinse.

Did you know?
• The amino acid co-surfactant provides support and body to the hair and favors its right oxygenation.
• Cotton seed oil – thanks to its low molecular weight – provides the right moisturizing degree to scalp and hair, without weighing hair down.
Ingredients
Aqua/Water/Eau OZ, Sodium Coceth Sulfate ND, Cocamidopropyl Betaine ND, Achillea Millefolium Extract BD, Zingiber Officinale (Ginger) Root Extract O, Oryza Sativa (Rice) Extract FT, Tilia Tomentosa Bud Extract ND, Citrus Limon (Lemon) Fruit Oil EO, Abies Alba Leaf Oil EO, Coriandrum Sativum (Coriander) Fruit Oil EO, Pelargonium Graveolens Flower Oil EO, Citrus Aurantium Dulcis (Orange) Peel Oil EO, Citrus Sinensis Peel Oil Expressed EO, Citrus Grandis (Grapefruit) Peel Oil EO, Cinnamomum Camphora (Camphor) Bark Oil EO, Citrus Aurantifolia (Lime) Seed Oil EO, Citrus Reticulata Peel Oil EO, Litsea Cubeba Fruit Oil EO, Rosmarinus Officinalis (Rosemary) Leaf Oil EO, Ocimum Basilicum (Basil) Oil EO, Cymbopogon Nardus (Citronella) Oil EO, Pimenta Officinalis (Pimento) Leaf Oil EO, Salvia Officinalis (Sage) Oil EO, Tagetes Minuta Flower Oil EO, Hydrolyzed Sweet Almond Protein ND, Cotton Seed Oil Glycereth-8 Esters ND, Disodium Laureth Sulfosuccinate ND, Coco-Glucoside ND, Glyceryl Oleate ND, Sodium Cocoyl Alaninate ND, Guar Hydroxypropyltrimonium Chloride ND, Glycerin ND, Creatine ND, Menthol ND, Sodium Chloride ND, Citric Acid ND, Tocopherol ND, Hydrogenated Palm Glycerides Citrate ND, Sorbic Acid, Potassium Sorbate, Sodium Benzoate Limonene ND, Citral ND
PACKAGING AND SUSTAINABILITY
We safeguard the concentrated richness of Oway's agricosmetics in glass bottles and aluminium tubes: inert and protective materials, 100% recyclable for an infinite number of times. We use metal caps, where possible, to seal bottles and jars. We promote the interchangeability and reuse of the dispenser and encourage consumption awareness of our formulas, reducing waste.
We only choose eco-certified papers, such as FSC, which come from responsibly managed forests, and Tree Free, deriving from food production waste. To minimise our impact on the environment, we only use essential packaging and avoid unnecessary packaging. For some cases we create reusable cotton or wooden materials.
Check with your Municipality for a correct waste disposal
*It is not necessary to rinse the container from the very small residue of product inside.
**You can dispose of the label together with the bottle, without having to unglue it and dispose of it in the paper waste collection.
***Store the dosing pump by removing it from the detergent in use and screwing it onto a product of the same format.